Visit to Neckarelz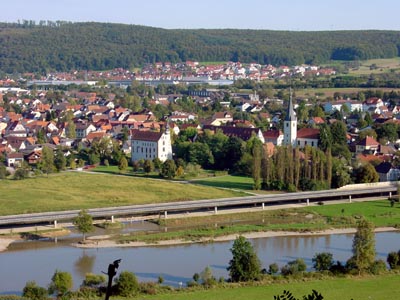 An overview of Neckarelz and the Neckar river. The church with the tallest steeple in the picture is St. Martins, which is a protestant (Reformed) church. Johann Philipp Emmert was baptized in this church.

Kurt Zimmermann (unrelated to Toni and Peter Zimmermann) is discussing family genealogy with Toni (center) and Pat (right). Kurt's mother was an Emmert; he is a descendant of Peter Emmert, a brother of Johann Philipp. Thus Kurt is a cousin of Pat and Gil; about seventh or eighth cousin, as genealogists count.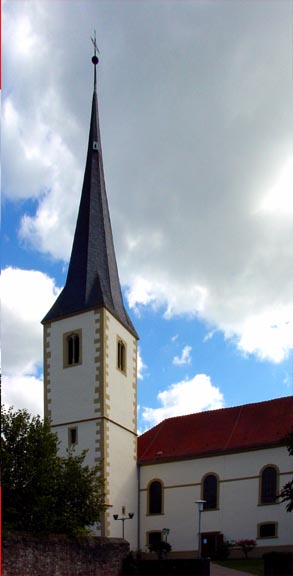 St. Martins church, where Johann Phillip was baptized. This is the third church building on this site. The tower is from the second church and was built about 1371. The present sanctuary is newer, having been built in 1773.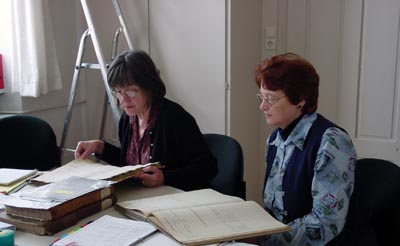 Toni Zimmermann arranged for us to get access to the church books. It was quite an experience to hold in our hands the actual books in which our family's important events (baptisms, marriages, and deaths) were recorded 300 years ago. Microfilm copies are available in Salt Lake City, but seeing the original books was neat.



The baptism record for Johann Philipp, our immigrant ancestor. The record says that he was baptised on Feb. 17, 1704 in Neckarelz, his father was Peter Emmert who was a citizen and fisherman in Neckarelz, his mother was Anna Magdalena, and the baptism was witnessed by Peter Kessler who was a citizen and blacksmith in Neckarelz.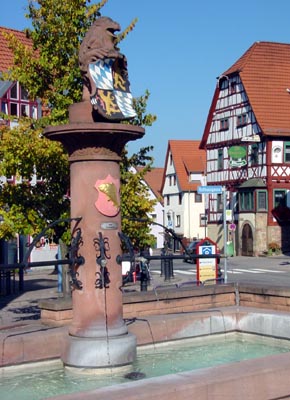 The market place in Neckarelz. The fountain is believed to have been built about 1550.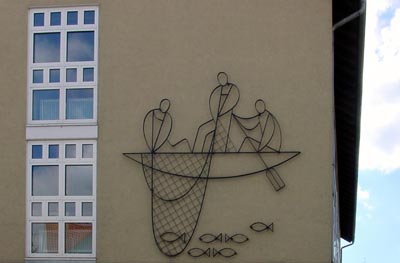 This graphic design showing people fishing is on the side of the Rathaus (city hall). The town's coat of arms contains a fish, so one might think that fishing was an important occupation. According to the town's web page, however, there were only ten fisherman in the early history of the town. It is interesting that, of the ten fishermen, four of them were Emmerts, including Johann Phillip's father and grandfather.

The Neckarelz coat of arms.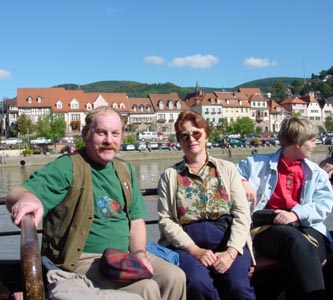 We took a sightseeing cruise on the Neckar with Peter (shown here next to Nancy) and Toni Zimmerman. The Neckar originates in the Black Forest, flows through Stuttgart and Heidelberg, and joins the Rhine at Mannheim. We were told in Neckarelz that a common way for people to start their journey to America was by traveling down the rivers using rafts and then selling the wood when they got to the sea. Hence, it could have been that Johann Phillip floated a raft down the Neckar to the Rhine and then down the Rhine to Rotterdam, where he is known to have boarded a ship bound for Philadelphia.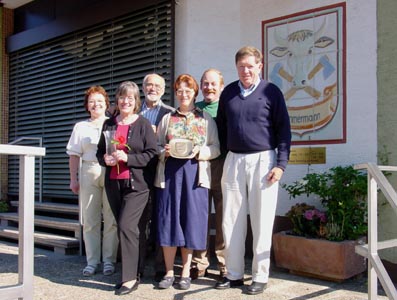 The gang in front of Peter and Toni Zimmerman's butcher shop. Left to right: Toni Zimmermann, Pat, Kurt Zimmerman, Nancy, Peter Zimmermann, and Ed. Pat is holding a glass vase given to her as a birthday present by Kurt and Nancy is holding a metal reproduction of the town coat of arms, given to us by Kurt.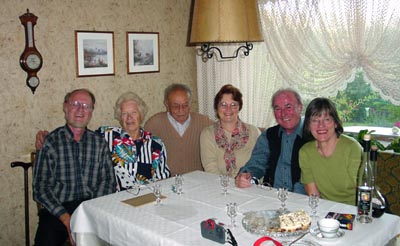 We were invited for coffee with Julius and Hilda Emmert. Left to right: Gil, Hilda Emmert, Julius Emmert, Nancy, Hans Emmert, and Pat.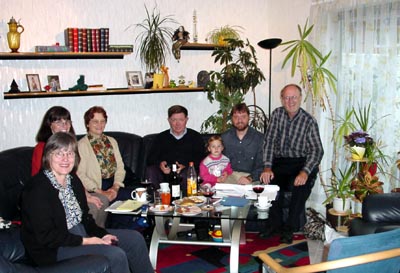 An evening with the von Huelsens. From left to right: Pat, Birgitta, Nancy, Ed, Pia, Gerd, and Gil. Gerd von Huelsen is Kurt Zimmermann's son.